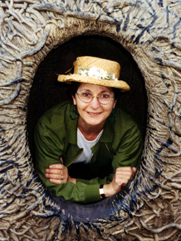 I was lucky to be born in such a beautiful place, in the bucolic hills of Asolo where my grandfather built villa Ararat.

Besides the natural and historical beauty that surrounded me, I was influenced by my family's architectural studio with exposure to modern artists and designers like Charles and Ray Eames, Matisse, Klee, Calder, Moore, Kandinsky. etc.

After studying architecture in Venice and teaching for many years, I moved to Los Angeles in 1986 with my husband and young son, I studied graphic design and art and I was able to fulfill my deepest passion for visual creations.

I am a mixed media painter, printmaker and assemblage artist who loves to be playful and whimsical. Nature and its inhabitants of every kind and size are my inspiration, as are the textures and surfaces that express time and history.

In the last 15 years I found a home in the co-operative art gallery Ten Women in Santa Monica, California, where you can see my work in two locations, on Main Street and on Montana Avenue.