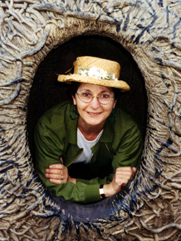 It all began in Asolo, Italy. I was so lucky to be born in a hilltop house overlooking a landscape like one in Giorgione's paintings.
Besides the natural and historical beauty that surrounded me, I was also influenced by the magazines that our family's architectural studio received, and by modern art. The colorful designs of the Eames, Matisse's paintings, Calder's mobiles gave me an excitement that is hard to explain, and that I tried to relive drawing and building objects. One of my favorite activities in the fall was hiking alone in the hills and gathering branches, berries and flowers to take home and display. I still love gathering "things" and now they end up in assemblages where fragments from nature and from recycled objects coexist peacefully with the help of my painter's hand.

I studied architecture in Venice (Italy), graphic design at UCLA and at the Santa Monica School of Art, Design and Architecture.

After much struggling with the question "am I an artist?"
I don't have doubts anymore.